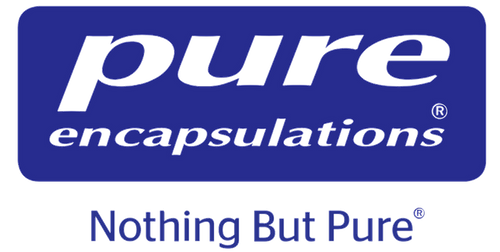 We carry a wide selection of lower-cost supplements from Pure Encapsulations, including:
7 Keto DHEA 25mg
Adrenal
Ascorbic Acid
Ascorbic Acid Powder
Ashwagnadha
Athletic Nutrients
B12 5000 Liquid
B12 Folate
B-Complex Plus
Best Rest Formula
Biotin
Calcium
Cortisol Calm
Circumin 500
DHEA 5mg
DHEA 10mg
DHEA 25mg
Digestive Enzymes Ultra
Dim Detox
Electrolyte Energy
Folate 1000
Folic Acid
Glucosamine Chondroitin MSM
Gluten Assure
Green Tea Extract
Hair/Skin/Nails Ultra
Hyaluronic Acid
L-Glutamine 500mg
Magnesium Citrate
Magnesium Glycinate
Methyl-Assist
Multi-Mineral Liquid
NAC 600mg
NAC 900mg
Nutrient 950A
O.N.E. Multivitamin
O.N.E.Omega
Prenatal Nutrients
Probiotic G.I.
PS 100
Quercetin
SAMe
Saw Palmetto 320
Selenium
Thyroid
Vitamin A
Vitamin D3 Liquid
Vitamin D3 25mcg 1000 IU
Vitamin D3 VESIsorb
Vitamin D3 125mcg 5000 IU
Zinc 15
Zinc 30
Zinc Chewables
Zinc Gummy
Pure Encapsulations is dedicated to providing nutritional supplements that are designed with integrity using premium ingredients backed by verifiable science, and held to the highest industry standards. They are also committed to advancing the science of nutrition and sharing their passion and knowledge for the greater good.
At Pure Encapsulations, they've spent the last 30 years researching, innovating, and developing a comprehensive line of premium supplements. Every one of their products is formulated using high‑quality, pure ingredients backed by verifiable science and FREE FROM unnecessary additives and many common allergens.
Free from: Wheat; Soy; Dairy; Eggs; Tree Nuts/Peanuts; Gluten; Artificial Colors/Flavors; Sweeteners; Coatings; Shellacs; and GMO's; Unnecessary Binders, Fillers, and Preservatives; Magnesium Stearate, Trans Fats and Hydrogenated Oils.
They source high-quality ingredients from trusted suppliers that are backed by science and research, work closely with leading experts, and apply rigorous quality standards to create premium dietary supplements that the consumer can feel good about and feel good from.
At Pure Encapsulations, they don't just focus on making something good, but doing good as well. That's why they're proud to support non-profit organizations that are dedicated to supporting global wellness, while also working toward creating a more sustainable future for our planet.
The products don't go to market without meeting the most stringent criteria to ensure the highest quality. Pure ensures the integrity of every product with the promise of premium sourced ingredients, backed by verifiable science, and significant testing by certified independent laboratories of our raw materials and final products, to verify their potency and purity. So you can feel confident knowing only the best of the best will ever make it into our patient's hands. Scientific research raises the bar for everything we do. That's why we've published more than 50 product-specific clinical studies in leading peer-reviewed journals highlighting our commitment to research and our collaboration with top academic institutions, including Cleveland Clinic Foundation, Université Laval, and Brigham and Women's Hospital of Harvard Medical School.
Product Testing: Our raw materials are tested for identity, potency, microbial contaminants, heavy metals (including mercury, arsenic, cadmium, and lead), 32 solvent residues, and allergens. Herbal ingredients are tested for 70 different pesticide compounds and essential fatty acids and fish/krill oils are tested for dioxins, furans, PCBs, and other agents. Fish oils are tested for oxidation, PCBs and PCB-like compounds, dioxins, and furans. Pure will also test for any specific contaminants known to be potential adulterants (for example, they test grapefruit seed for potential preservative contaminants). Product testing is done through high-quality, third-party independent laboratories, such as Silliker, Eurofins, Intertek, and Advanced Laboratories, which are considered the gold standard in the industry. At Pure Encapsulations, probiotics are verified with DNA testing. Pure products, as well as the manufacturing and testing procedures, are thoroughly inspected twice annually by the NSF (an organization that inspects products for compliance with the FDA GMPs).
What goes into the capsule? Pure knows that it's what's on the inside that counts, and it shows right on the labels. Every ingredient we put into their products, even if it is just a trace amount, is listed on the label. And if there's an ingredient sourced from a possible allergen — Pure Encapsulations calls that out too. Pure will also list minerals by their true elemental weight and standardizations of herbal extracts.
Get any Pure Encapsulations products in the catalogue shipped to your door for free. Call us and set up your free delivery today. If there's something you don't see here, give us a call and we can get it ordered for you.
Pure Encapsulations products are FREE FROM:

Wheat, Soy, Dairy, Eggs

Tree Nuts & Peanuts

Gluten

Artificial colors, flavors & sweeteners

Coatings & shellacs

GMOs

Unnecessary binders, fillers & preservatives

Magnesium Stearate

Trans fat & hydrogenated oils